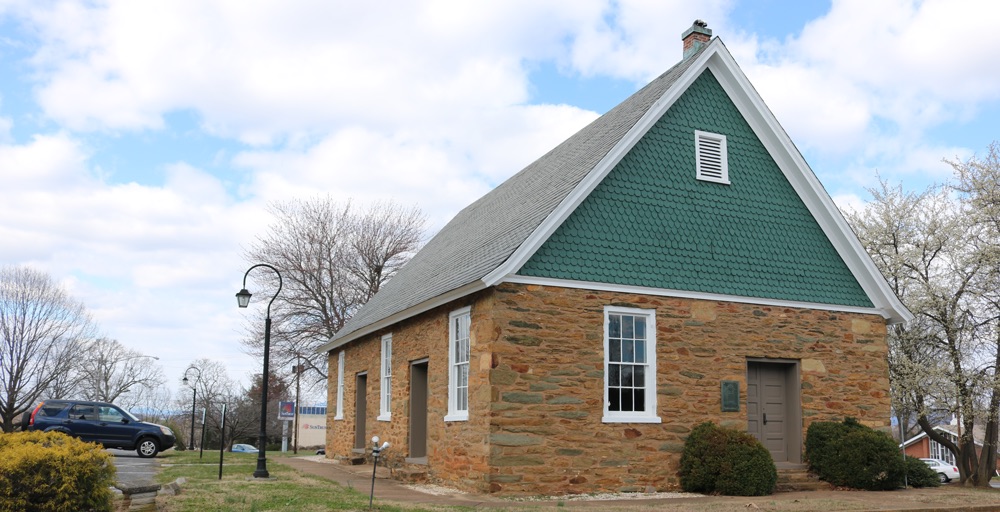 In the mid-eighteenth century, pioneer Quakers settled in this area. Sarah Clark Lynch 1754 invited her neighbors to worship in her home. South River Meeting House was organized in 1757.
Sarah Lynch gave two acres of land for the Quakers first log meeting house. The first meeting house burned down in 1768, and a framed building was erected. Within 25 years the increased membership made necessary the building of a larger one.
In 1771, John Lynch, founder of Lynchburg, gave 10 acres of land "for the use... of the People called Quakers..to hold, use and enjoy...Build and uphold and repair the premises for the purpose of Divine worship, regulation of church discipline. Burying Grounds and Education of the Youth.." Completed in 1798, the stone building remained the site of Quaker worship and activity until the 1840s. Eight of the eleven original trustees of Lynchburg were Quakers who worshipped at South River Meeting House. John Lynch and other early leaders of the community are buried in the adjacent historic cemetery. South River Quakers were among the first in the South to oppose slavery.
In 1772, members of this meeting were forbidden to purchase or hire Negro slaves. To do meant certain disownment from the South River Meeting House. Quakers began to leave the area in large numbers in the 1820s due to economic hardship, opposition to slavery, and the inevitability of war. Most went to Ohio and other free states (some settled in North Carolina).
The meeting house was abandoned and began to fall into ruins. This symbol of peace became the site of much of the action of the Battle of Lynchburg on June 17-18, 1864. Union officers made nearby Sandusky their headquarters, and their troops encamped near the ruins of the Meeting House.
In 1899, the Presbyterians rescued the building from complete destruction when they purchased the ruins and 10 acres from the Society of Friends. The Presbyterians rebuilt the ruins for use as their church and held their first service in 1901. The restored church was named Quaker Memorial Presbyterian Church in honor of its Quaker heritage. With South River Meeting House a historic shrine. The Meeting House and Cemetry were named Virginia Historic Landmarks and placed on the National Register of Historic Places in 1975.
Restoration
Completed in 1990, the Bicentennial Committee for the Restoration of the South River Meeting House was organized in 1983 for the purpose and preservation of the South River Meeting House. The restoration was made possible by consultation with many experts in the fields of Quaker history and historic restoration and preservation. The work was done as professionally and authentically as possible. We invite you to join us in preserving the most significant remaining link with the Quakers who settled in our city.
Tours
A written self-guided tour of the Meeting House is available from the secretary's office of the Quaker Memorial Presbyterian Church, 5810 Fort Ave. between 9am-1pm Monday-Friday (except for major holidays).