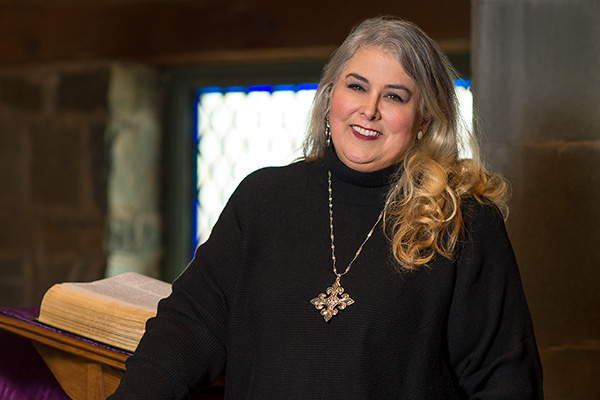 Rev. M. Anghaarad Teague Dees
Pastor
The Rev. M. Anghaarad Teague Dees is a Tupelo, Mississippi native currently serving as the pastor of Quaker Memorial Presbyterian Church. Anghaarad comes from a large family of pastors, teachers and church musicians. She is a cradle Presbyterian, having grown up in First Presbyterian Church of Tupelo, Mississippi. To honor her Welsh heritage, her parents named her Anghaarad which means "the voice of angels" or "angels herald." She graduated from Mississippi University for Women with a degree in vocal performance in 1995. After graduation, she briefly taught 6th-12th grade band at Mooreville School in Tupelo, Mississippi.
After her brief foray in teaching, she moved to Austin, TX to attend Austin Presbyterian Theological Seminary and graduated with her MDiv in 2001. She was ordained in her home congregation on June 10, 2001. Anghaarad has served congregations in Mississippi, Texas, Missouri, Alabama, Florida and Georgia before coming to Quaker in 2021. She has also been a frequent leader for Montreat Youth Conferences as well as a keynote speaker/worship leader for youth retreats or conferences in several presbyteries and synods. She was the worship leader for Mo-Ranch Junior High Jubilee in 2016.
As a classically trained vocalist she has performed with opera companies in Mobile, AL, Austin, TX, Memphis, TN, Jackson, MS, and Pensacola, FL. For over a decade she fronted a bluegrass band out of Mobile, AL and in her free time seeks opportunities to sing with local choral groups. A loyal member of the Long Blue Line, she is a past president of the Mississippi University for Women Alumni Association and continues to serve the Alumni Association as a committee member, mentor to recent graduates and advisor to the current alumni president. Anghaarad served the Valdosta Police Department as a volunteer chaplain and has completed over 200 hours of training in Law Enforcement Chaplaincy.
Anghaarad is married to Zane Dees and they are kept busy with their animal menagerie: cats: Ollie and Bit and dogs: Gypsy and June. In their free time they enjoy movies, live music and traveling. Anghaarad writes: "I grew up on the stage of Tupelo Community Theatre and have performed in numerous productions through the years. No show had a deeper impact on me than "To Kill a Mockingbird." I was the understudy for Scout at age 9 and memorized the entire show. I would stand in our front yard and perform Atticus' speech to the jury to any passerby. I declared then, I wanted to be Atticus when I grew up. In some ways I have achieved that goal…Mort McMillan, who was the pastor at my home church, played Atticus in that production and I have followed in his footsteps into this life of ministry. But I was able to do that because of the first lesson I learned in those well-worn pews of First Tupelo: I belong…I am a child of God loved, claimed in the waters of baptism and I will always be surrounded by the wonderful company of saints who have guided me, prayed for me and made room for me on this journey of faith and have shaped my ministry. Every day I am grateful that I am called this weird and wonderful thing called ministry and look forward to serving the people of Quaker Memorial Presbyterian Church."

Deborah Ashworth
Office Administrator
Deborah grew up in Greenville, SC and is a proud Clemson University graduate. She has held clerical positions in churches, schools, law offices and manufacturing facilities over the past 20+ years. She and her family moved to Lynchburg with her husband's job in 2007. She was previously the Office Adminstrator at QMPC from 2012 to 2018 when she and her husband moved briefly back to SC. She has now returned to Lynchburg and glad to be back home at Quaker.

Sheryl Kesselring
Bookkeeper
Sheryl was born and raised in Simi Valley (suburbs of Los Angeles), California. She has lived in 4 different states and made her final move to Virginia to be close to her grandchildren. She retired from PCHP in March 2021 but remained on staff until last August. Working as the Secretary for the First Presbyterian Church of Durango, Colorado she was encouraged by the Pastor to complete her education. She got her BA in Accounting and MBA after the age of 50 and has worked in an Accountant position for manufacturing, hospitals, and the Insurance industry.

Rose Peak
Organist
Rose Peak has served as organist for Quaker Memorial Presbyterian Church since 2004. A graduate of Radford University with a B.S. Degree in Music Education, Rose is a certified independent music teacher and piano instructor in Rustburg. She serves as a national adjudicator for the National Guild of Piano Teachers (NGPT), a division of the American College of Musicians, and is active in the American Guild of Organists, the Virginia Federation of Music Clubs and the Music Teachers National Association, and is a Hall of Fame member of the NGPT. She is a staff accompanist for Lynchburg College and is accompanist for the Lynchburg College Choral Union and the LC Concert Choir, the Jefferson Choral Society, and is chapel organist and glee club accompanist at Virginia Episcopal School.